MRS. MEEK'S WEEKLY MESSAGE

Dear BPE Families,
Dear BPE Families,
What a fantastic first week we have had at BPE! This week, our campus came to life when students entered our beautiful building for the first time since May. During my time in classrooms this week, I have enjoyed catching up with students and seeing their excitement.  Watching BPE in action has made my heart sing. We are looking forward to a fabulous year as we continue to learn and grow with one another. I can't thank the students and parents enough for the warm greetings and support you have given our teachers and staff. They have worked so hard to make the first few days successful for your children and it shows.
Since my arrival as principal, our school has desperately needed a crossing guard. It has been extremely difficult to find someone to fill this position. Our wait is finally over!! I am so excited to introduce to you our new crossing guard, Debra Aupperle. Debra has been a crossing guard at Cedar Creek and decided to transfer to BPE this year. I've included a picture from the first day of school below. Please take notice of the orange netting in the background of the picture. In addition to adding a crossing guard, the city has installed a sidewalk and curb with a ramp. We are very thankful!
As we move into week two I want to share a few reminders:
3rd Grade Back to School Morning will be on Monday at 7:40 in the library.
2nd Grade Back to School Morning will be on Tuesday at 7:40 in the library
1st Grade Back to School Morning will be on Wednesday at 7:40 in the library.
If your child is going to be absent, please log into Smart Tag to let us know. 
No School Monday, September 5th due to Labor Day Holiday
Visitors are invited to eat lunch with their children at any time after the Labor Day Holiday.
Have a wonderful weekend!
All my best,
Heather Meek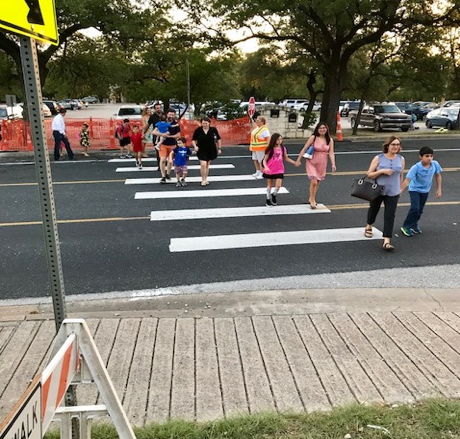 Counselor's Corner
Welcome back, BPE families! We are so excited to be your counselors this year and are thrilled that the district has made Social Emotional Learning (SEL) a priority again this year. The district is supporting the SEL initiative by continuing to implement Second Step, an SEL curriculum, to all grade levels and classrooms.  In addition to our counselor-led classroom lessons, teachers will use the Second Step Curriculum to teach and embed SEL skills in their classrooms. We are optimistic about the growth our students will experience in 5 SEL Competencies: Self Awareness, Self Management, Social Awareness, Relationship Skills and Responsible Decision Making.  

BPE will also continue our monthly Life Skills and the Wirht Wall of Fame. For the first nine weeks of school, our District SEL competencies will be Relationship Skills and Collaboration. During September, students will be focusing on RESPECT.  Teachers and staff will be on the lookout for students showing respectful behavior and acknowledge students with a Bobcat Head. We also have some fun, new additions to our Life Skills program this year- be on the lookout for more information! We look forward to sharing more about these SEL skills and other important information in the Counselor Corner of the newsletter!  You can also visit our website, to learn more about what the counselors are doing at BPE.

Sincerely,

Addie Edwards & Jennifer Cheatham
Back to School Letter from Superintendent Dr. Tom Leonard.
The GT Consent for Assessment Form for Grades 1-8 is available until August 31, 2018 @ 11:59PM. There is a parent information meeting on Monday, August 27 @ 6PM. See details below.
BRIDGE POINT ELEMENTARY SCHOOL
6401 Cedar Street, Austin, Texas 78746