MRS. MEEK'S WEEKLY MESSAGE
Dear BPE Families,
This week, we only have 2 regular school days on Tuesday and Wednesday. On Thursday, school will release for summer at 11:50 am and lunch will not be served. As you are here this week for class parties, please check the lost and found. Any items left in the lost and found after the last day of school will be donated this summer.
WE MADE IT! It was another amazing year and I'm so proud of our students, staff and community for making the 2018-2019 school year a huge success. This truly is the best school in the world.  I hope you find time to rejuvenate, recharge, and relax with your family until we see you again in August.
Congratulations to our new Booster Club Board. I look forward to serving our school alongside you next year.  Co- Presidents: Jayme Tirres and Kristen Stewart; Co- President Elects: Catherine Howry and Lynne Sweeny; Treasurer: Emily Cardwell; Secretary: Avani Vije; VP of Communication: Kristin Fearday; VP of Student Events: Toni McClelland; VP of School Support: Desha Roos; VP of Fundraising: Holly Brown; Advisors: Cassie Bale, Emily Galatzan, and Alexis Stokes.
Lastly, it was brought to my attention from our Booster Club that the 2019-20 school supplies and spirit wear order deadline is coming up quickly on June 7th. School supplies can be purchased through the BPE Booster Club website.
All My Best,
Heather Meek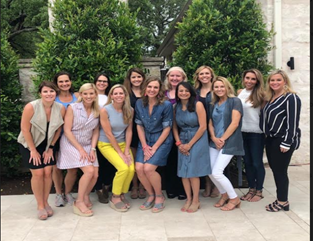 News from the Nurse
Please remember to pick up all clinic medications (emergency, as needed, Live Oak) by the last day of school. Anything left after the last day will be discarded per FDA policy.
I will need new action plans for the Fall if your student has epi pens and/or inhalers that stay in the clinic. Please contact your doctor this summer to get that done.
I've sent an email to everyone that I'm aware of that will be delinquent on vaccines in the Fall. Please get copies of them to me ASAP so I can clear you for the school year.
Thanks and have a great (and safe) summer!
Sincerely,
Mrs. Boldrick
Counselor Corner
We are excited to announce that Bridge Point has received the No Place for Hate designation for the second year in a row! We are grateful to our fourth and fifth grade student council members for their hard work in making this happen!

As we approach our last few days of school, we want to say what a joy it has been for us to grow our relationships with all the wonderful families and students at BPE this year and we look forward to starting another fantastic school year with you all in August! While we will both be returning for the 2019-2020 school year, Miss Edwards will be coming back with a new name: Mrs. McBride! We hope everyone has a fun, safe and relaxing summer. Miss Edwards will be out of the office for summer break beginning the afternoon of Monday, June 3 and Mrs. Cheatham will be out of the office beginning Friday, June 7. We will both return Thursday, August 1 and will answer all summer emails upon our return in August.
Sincerely,
Addie Edwards and Jennifer Cheatham
Monday - May 27, 2019
All day
Thursday - May 30, 2019
8:00 AM - 9:00 AM
BRIDGE POINT ELEMENTARY SCHOOL
6401 Cedar Street, Austin, Texas 78746